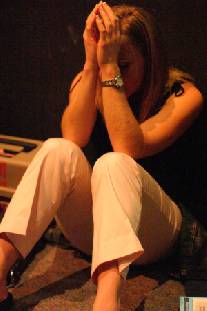 I've heard from three jobs now that I didn't get hired. My ego and my bank account do not like this one bit. I haven't been out in the job market for 4 years and even when I got my last job, I wasn't unemployed or applying like mad to jobs. I applied to that one job and got it while still employed. It was that easy.

This has not been an easy process. Which, apparently, is how it is supposed to go. Oh the lessons I am supposed to learn! Patience. Tenacity. Faith.

It's hard not to feel like a failure. Particularly difficult when you look at your dwindling funds and feel restless from lack of routine. I have tried to pause from time to time to feel grateful for this down time. But then my anxiety wells up in my chest and I get distracted. I wish I was better at meditation.

All the employers rejecting me have been very nice. They have sang my praises while saying, "We went with another candidate." So far I've lost out on the animal job, the bike tour job, and the outreach/volunteer coordinator job with at risk youth. The last one with the youth still has one position I am up for- events manager. This is the job I want the most besides the volunteer coordinator job at the agency that works with foster kid. The problem with the events manager position is that the hiring process is taking foreeeeeeeever. And that isn't the best indication of organization or follow through. The woman who has interviewed my twice there was so sweet on the phone saying that she thinks I am awesome and it was the hardest decision to make and that she definitely wants me on staff. She's the Deputy Director so you'd think she'd have some clout with the Executive Director. But meanwhile, they are maybe calling in people for second interviews next week and then maybe having people come back for third interviews. Good god.

The women's organization called me yesterday but I was out in shoddy cell service land looking at houses with my mom and didn't get around to calling them back. I was avoiding that call really because I think they want to hire me and I think that I don't want that job. I didn't get a comfortable feeling being there. The women who interviewed me were nice but I didn't feel any click with them like I did with the other two remaining jobs. The pay is really low, the location sucks and you have to work Thanksgiving (no negotiating). Those are just some of the cons on my list. So here I am again at the table, having to ante up or fold. I sure am turning into quite the gambler.

I've been applying to new opportunities still but not at the rate I was prior to getting all these interviews. That worries me. I am beating myself up and feeling a bit panicked like I should plant myself here at this desk and send out resume after resume until something inside me is satiated. Until the feeling of fear subsides some.

Why is it so hard to trust that everything will be ok?