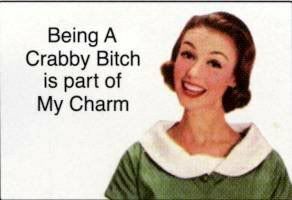 Wouldn't you know it? I went and used my meme yesterday and today I have writer's block. I have had too much on my mind and it is crowding out any sense of intelligent thought. I have come to realize that when I sit down to write this blog, I don't want to be a rambling, emotional mess. I feel like I am that inside a lot of the time and sometimes (ok often) it overflows when I am speaking. But here, I try to at least look like I have somewhat of my proverbial shit together.

It totally isn't working is it?

I guess the intention of this blog originally was not to entertain but to allow me a place to vent, share, wonder aloud (so to speak). Now I find myself thinking of this in different terms. And I don't want to lose my "real-ness". I guess what I mean to say is that I haven't been really unloading the truth of my heart here lately.

In my day to day life, I feel short-tempered, lonely, surrounded, at my wit's end, lazy, disconnected, hungry for real connection, longing for affection, bitter, scared, anxious. Always anxious. I haven't been taking very good care of myself. Forgetting to eat or eating the wrong things. Drinking a lot of red wine. Watching TV so I don't have to think. Trying to focus at work so diligently that 6 hours can go by and I have not gone outside for a break. I come home spent and cranky and dissatisfied. I feel like I am stuck in PMS-mode and I hate PMS-mode. God, how I hate it.

I need to reconnect with something akin to hope inside myself.

I feel angry but I am not sure at whom or at what or why. I feel fed up with the disconnect between people. I am exasperated with reaching out and not receiving that sort of reaching out in return. I feel tired. Very tired. Somewhere along the journey here I picked up a lot of crap that isn't really mine to carry. I need to unload it. I'm impatient for change.

I see the horizon of hope . . . I just pray it isn't a mirage.

*Don't go worrying about me. I will be ok.
**See? I can't even write a blog post without making sure I explain away any feelings you might have of concern for me.
***That isn't a good sign, is it?